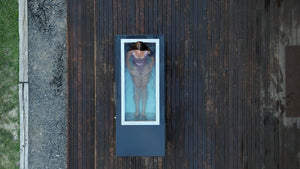 CoreChill¹ Cold Plunge Tub
Pure Simplicity. Unmatched Quality.
When it comes to your cold exposure routine, if you value:
Pinnacle Cold Exposure Therapy Every Plunge
Quality Components and Design Built to Last
American Made, Handcrafted with Love
Then BlueCube is your only option for residential and commercial cold plunges.
Most cold plunges are a joke. They're unreliable, inefficient, and break down. You're lucky if they last the year.
That's where we come in. We at BlueCube don't cut corners when it comes to your cold plunge builds.
While some people splurge on expensive coffee machines and watches, we believe your cold exposure routine deserves a better investment.
For your cold plunge tub, you can choose between weatherproof exterior or full wood models. Our cold tubs are made of 304, 14 gauge stainless steel that can stop a 22 round shot directly at it.
Don't get stuck with a cold plunge that is a hassle to maintain with no customer support. Don't step over dollars to pick up pennies and be stuck with broken equipment and cold showers and ice baths for your routine.
Invest in your health with a quality build that ensures you maximize your health benefits every day from pinnacle cold exposure therapy.
BlueCube is the Only Commercial Capable Cold Plunge
You deserve the best cold exposure therapy every session.
Whether for your wellness center or home, your BlueCube provides hassle-free, reliable, commercial grade cold therapy.
Maximize your cold adaptive response and cascading health benefits with the coldest, highest flow cold plunge available.
BlueCube is Simply the Best Tool For Cold Exposure Therapy
Highest Flow Rate Cold Plunge.
Ergonomic Design.
Accessible.
Comes Fully Assembled.
Easy Drain and Refill.
Gets to Temperature Fast and Stays There.
Cold Plunge Tub As Seen on WSJ, NYT, and JRE Podcast
BlueCube Cold Plunge Tub Testimonials and Reviews
★★★★★

"The main thing my clients love about our BlueCube ice bath—it's always cold, always clean. We need water to stay cold and clean given our high volume. BlueCube stepped up to the challenge and delivered.
★★★★★

"Our members look forward to Saturday morning cold plunges in our BlueCube. We can run 13 people back to back no problem."
★★★★★

"As a biohacker and health optimizer, I believe the science is clear: cold exposure therapy is a pillar of health. BlueCube makes my routine hassle free to follow from home. No bags of ice, no set up times.."