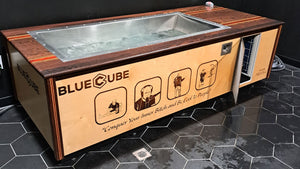 Joe Rogan's Ice Bath and Cold Plunge Tub
In-Line 50 JRE Edition Cold plunge with wenge deck
Joe Rogan's Ice Bath: BlueCube in the JRE Studio
If you follow Joe Rogan's podcast, then you know how obsessed he is about ice baths / cold plunge tubs, sauna, and hormetic stressors.
He is so obsessed about cold plunging that it has been part of his daily routine for years.
You have likely seen videos of Joe Rogan on Instagram, Youtube, Facebook, ice bathing for 20 Min at 33 degrees Farinheit (a challenge he put himself through because of Jocko Willink's son).
* CAUTION: WHILE COLD PLUNGING, DO NOT ATTEMPT TO GO BEYOND UNCONTROLLABLE SHAKING.
THIS CAN CAUSE HYPOTHERMIA, OR A DANGEROUS DROP IN BODY TEMPERATURE.
If done based on your tolerance, ice baths are a reliable way to reset your nervous system, ground yourself in the present moment, reduce inflammation and muscle soreness, and increase dopamine by 2.5x.
Joe Rogan's Cold Plunge Tub and Ice Bath
• Cools to 36°- 60° degrees

• No ice, no set up times, no hassle
• 20 Micron filter and ozone chemical free filtration

• Runs 24/7, always ready for you and your family

• Fits individuals up to 6'5" and 350+ lbs.

• As energy efficient as a small refrigerator

• 5-year warranty with support service to match

• 30-day money back guarantee*
Joe Rogan Discussing Thermal Barrier and BlueCube Ice Bath
Joe Rogan's Cold Plunge Tub and Ice Bath: BlueCube Vs. Morozko
Joe Rogan now has two ice baths, one in his studio and one at his home.
The BlueCube is located in his studio next to his Salus Sauna barrel sauna.
He also has a Morozko Prism Forge at home.
The main difference between these two units—BlueCube ice baths are commercial capable while Morozko are not.
In fact, Morozko prides itself in making ice. This is unsanitary, as ice cannot circulate through filtration and ozonation.
You cannot cold plunge back to back in a Morozko due to low circulation. The water will heat up just from one person cold plunging.
If you own a wellness spa, chiropractic center, or gym, these means you need 15 minute cool down periods between ice baths.
With a BlueCube, you will never experience down times. High flow rates means the water is always cold and clean.
Joe Rogan's Ice Bath
Cold Plunge Tub
Pinnacle Cold Exposure Therapy
Joe Rogan's Podcast Studio Cold Plunge Tub
Learn more about the BlueCube In-Line 60 Cold Plunge.
Contact us Today to Learn More.
Fill out this form and a team member from BlueCube will reach out soon!